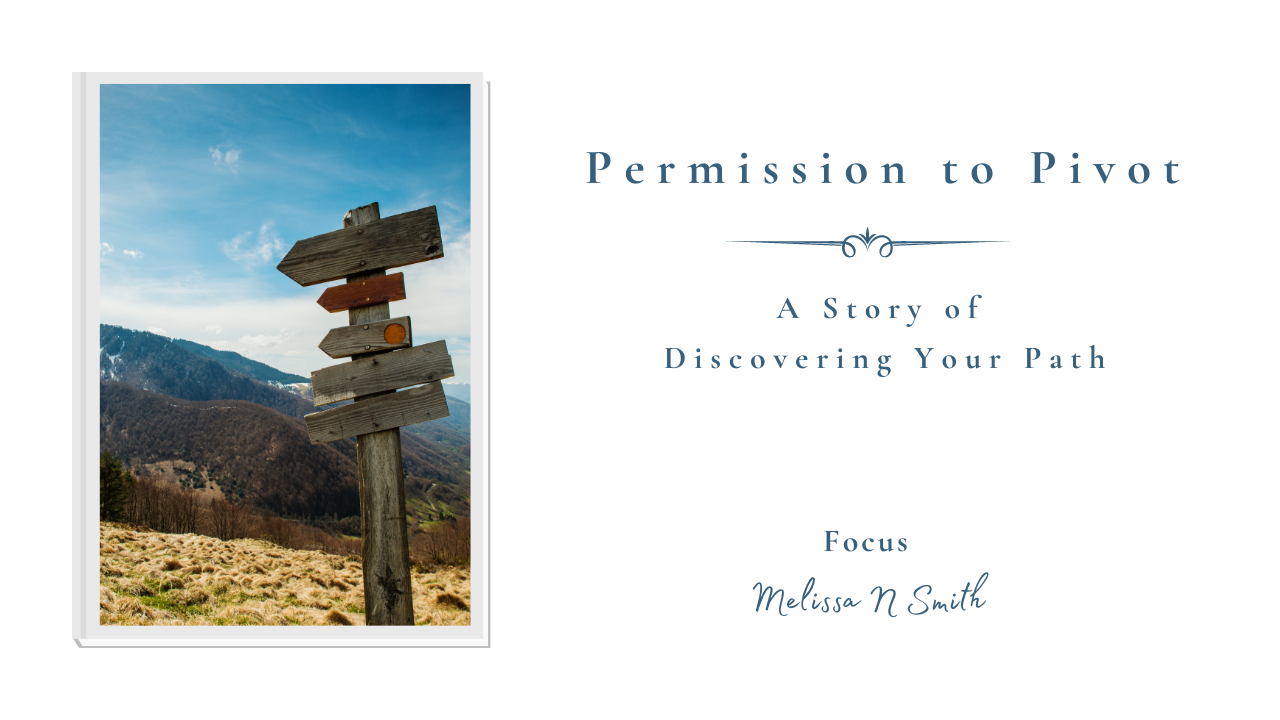 Permission to Pivot: A Story of Discovering Your Path
She loves words and beauty and always has. When the idea hit to start a blog, it felt right. Her children were little and took naps in the afternoons, the perfect time for her to get a little work done. For a couple of months, she quietly and slowly built the website and wrote blog posts. Every time she hit "publish" a little thrill trilled in her heart.
She wrote about her children's antics and how hard it was to balance her time. Having given up a career she loved to stay home with her kids, Lilly loved this little corner of the internet that was hers. She posted pictures of her garden and the flowers growing in it. Occasionally, a comment or two would come through on her website - just a little encouragement to keep going.
At church, a friend realized she had a gift with words and asked if she would write a weekly encouragement post on the women's ministry page. Of course!
Around the playground, as the mom's chatted and their children played, Lilly found herself in conversations encouraging other mothers as they struggled to rest, find time to go on dates or pursue their hobbies. Each conversation stirred ideas in her heart and found their way into blog posts.
---
After a year of writing on her website, Lilly had about 150 people who faithfully read her posts. Many emailed her with questions. The women's ministry page was thriving. In fact, the leadership had asked her to facilitate a group for the women on Thursday mornings equipping and encouraging them. But in the midst of this growth, her children had grown too and no longer napped. Writing on her website was harder to schedule, and she felt the weight of the shift.
Then, an invitation came to speak at a local women's event. Yes! Due to years of blogging, Lilly had plenty of source material. The event was a huge success and led to another invitation, then another. The posts on her website moved further down the list.
As fall rolled around and Lilly enrolled her children for school, it occurred to her that she would have more time to write! Hooray! Yet, with each passing week, she didn't write. She had lunch with women to encourage them, she led the Thursday group and equipped women for ministry, and she spoke regularly at women's events. Once a month she wrote on the ministry page and once a month she wrote on her blog, but it felt uninspired.
As Lilly prepared to walk on the stage to speak at the Christmas brunch in December, she listened as the announcer introduced her. "Please welcome, Lilly, our beloved teacher and friend will be speaking on…." Teacher. Speaker.
A fire sparked in her soul as insight flooded her heart. "I am a speaker who writes, not a writer who speaks."
Lilly knew then it was time to pivot. Her website needed to be for her business, a booking page, and a home for the curriculum she developed for the Thursday group. The seed God planted in the quiet of nap time became a thriving speaking ministry years down the road.
The pivot was not sudden or jolting. It was a slow blossoming of experience, time, and opportunity. Through faithfulness and stewardship of her gifts, she grew into the woman God had designed her to be. Was the blog a loss? No. It was the fertile soil from which a thriving ministry grew.
We need not despise our small beginnings and quiet growth.
---
Do you need help seeing the pivot point in your life? Use the following questions to consider and reflect on God's direction for you.
Which areas of your life are uncomfortable like a shirt you have outgrown?

What work is currently most life-giving to you?

In the past year, what opportunities has God given you?

If you trace the past 3 years of your life, what common themes do you see?

How did those years train and equip you for this season?

Looking forward, what new desires or opportunities has God placed in your life?

What is most difficult for you to let go of today?

If you let go of it, what would that create space for in your life?

Who in your life could give you a fresh perspective or wise counsel?

Finally, look at your experience, time, and opportunity. What do they tell you?
If you find you need a little help in your creative life, I'd love to partner with you. Let's chat! Click here to book a FREE Intro Coaching Call.
Want to receive more great content like this in your inbox?
Click below to receive the monthly newsletter, Snapshots, and a FREE 15-page printable resource: Refresh & Focus.
Learn to dream with God, reflect on His design for you with journal prompts, and begin to implement your calling with a priorities & goals worksheet.
Yes, I'm in!
Did you know Melissa offers one-on-one coaching?
Coaching is an opportunity to cultivate a life of joy in Christ, rich relationships with others, and meaningful work woven into your day.
I help you cultivate a life of joy as you identify your core values, invest in relationships that matter, and create routines that allow space in your life to pursue God's purposes and your dreams.
Sounds amazing, right? Sign-up for more information and discounts!
We hate SPAM. We will never sell your information, for any reason.